Q and A: On the road north with Econ's Andrew Lupton
How is your plan for a depot in Scotland developing?
The depot is due to be open in the summer. We will be looking at recruiting a new team in Scotland to populate the depot.
Can you describe what the depot will be like?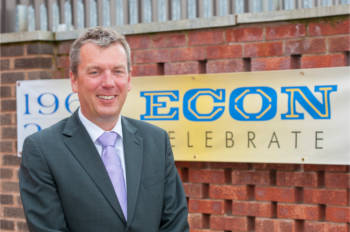 The depot is a new build with three repair bays - one with a brake tester and two with pits.
There will parking for over 40 gritters as well a store of business critical parts for use by both customers and the Econ team.
Discussions are ongoing with leading original equipment manufacturer (OEM) suppliers for them to have consignment stock in place.
Last time we spoke you had 150 gritters in Scotland. What is the expansion plan in the North and what is the market like at the moment?
We were at full capacity last winter but with the depot opening and 109 gritters added to the hire fleet we are confident of building on our success.
Are the any differences about the Scottish and English markets that impact you?
The two markets have much in common but the principal differences remain, for the time being, the more extreme cold weather events in Scotland and the challenges of the volumes of traffic in England and Wales.
What different things do clients in Scotland ask for?
Clients in Scotland are still looking to carry out the contracts in house and whilst there are budget constraints in Scotland there are not the companies available to outsource to, particularly in the more rural areas.
This is leading customers to still prefer to specify the multi-purpose options to complement the gritters, assisting in tasks such as gully emptying, patch repair, surface dressing etc.
What is your view of the winter maintenance sector at the moment?
It has been a real eye-opener receiving the route cards to assist us in creating route guidance systems for the drivers.
The quality of the information given to drivers to guide them around the routes is very inconsistent, which must result in different treatment outcomes depending on who is driving that route on any given night.
So consistency of treatments of routes must be addressed.
How does it feel to see Econ reach 50?
Exhausting but with a level of satisfaction. As you can imagine, we have been looking at our archives to produce commemorative material and it provides a real insight into how far we have come.
What new products are you working on?
We are still working towards getting route guidance systems into the majority of spreaders. We have been on various market exploration trips in mainland Europe and we have a way to go on this. Route creation and editing software has been greatly improved over the past 18 months but this comes at a cost.
What interesting orders have you had recently?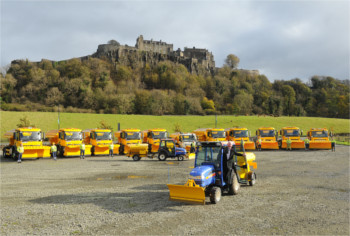 Stirling Council took delivery of a range of 11 vehicles including an 18 tonne Unibody, a smaller 12-tonne permanently mounted gritter for Stirling city centre, as well as a range of six cubic metre and nine cubic metre permanently mounted gritters.
These include a combination vehicle featuring Econ's acetate sprayer, which can be called into service in sensitive areas where rock salt is too corrosive.
Drawing on the Econ team's technical and engineering expertise, the system was designed in 2016 and dispenses liquid de-icer over one, two or three lanes of road at rates of between 15 and 45ml per square metre.
It uses a new Econ 4G control system, enabling the operator to change between solid dry rock salt, spread via the spinner disc, and liquid de-icer, sprayed via the central and outer trajectory nozzles, which form part of the liquid dispensing system at the rear of the vehicle.
The council has also opted for a Navtrak route guidance and automated spreading system, fitted on all its new Econ vehicles to maximise accountability and value for money on salt reserves.
What else does the future hold?
Econ has always believed that the maintenance of the nation's transport infrastructure is vital to improving its productivity to compete on a world stage. At the heart of this will be the road and Econ will maintain its focus on this sector.
As investment in the hire fleet continues to grow, our intention is to increase the number of satellite depots to bring the service facilities nearer to the customer. Technology will play its part in improving services to the customers with the increased use of telemetry so that in the future faults in the machines will be diagnosed remotely, so that when they arrive at the depots for repair all the parts and equipment necessary will be on hand, greatly reducing down time.
The next generation of the SPARGO controllers are being developed with this in mind and ever-improving graphic capabilities will enable route guidance systems to be integrated and remotely updated.
Cold Comfort Scotland - the devolved nation's only annual winter maintenance conference and exhibition takes place at the Macdonald Inchyra Hotel, Falkirk Thursday 25th April 2019.
Cold Comfort - the 28th annual winter maintenance conference and exhibition in England takes place at the Harrogate Convention Centre, Harrogate, on 15th - 16th May 2019.