Making the weather
Gordon Mackay's two-year term as chair of the Society of Chief Officers of Transport in Scotland (SCOTS) comes to an end in May. Transport Network catches up with him to talk winter service, collaboration and all things transport.
It's been an exciting time for transport in Scotland,' Mr Mackay says as he looks back over his spell as SCOTS chair.
With a national transport strategy review underway and the wide-ranging Transport (Scotland) Bill going through the Scottish Parliament, this could prove to be a pivotal moment for the devolved nation.
The changing situation has seen Mr Mackay give evidence to the Scottish Parliament about the Transport Bill and have a face-to-face meeting with former transport minister Humza Yousaf to discuss governance.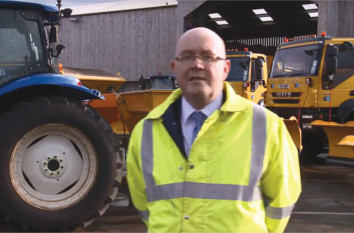 On the Bill, Mr Mackay says there are some unanswered questions but has faith in the scrutiny process. He highlights the need for extra funding if Scottish councils are to take advantage of proposed powers to set up municipal bus companies, and the difficulties of market competition.
SCOTS has never avoided the big issue of governance and reorganising Scottish transport authorities, and it feels their position, while remaining consistent, has hardened. An official consolidation of the number of transport authorities towards a regional basis is necessary and must be put on a statutory footing, SCOTS argues.
'SCOTS has a view we would be best served by working on a regional basis and that would require a reorganisation on a statutory basis,' he says. However, Mr Mackay adds there are different models that could be used regarding the size and construct of these regional authorities.
This is not just because of the funding pressures on transport authorities (which appear to range from the highly concerning to the absolutely bleak) but also about the functionality of a greater scale and need to maintain expertise, Mr Mackay says.
Scotland has been through a process of voluntary collaboration and alliance working in roads. Much good progress has been made in this area; however the feeling was that perhaps this had gone as far as it could go. (The president of the Chartered Institution of Highways and Transportation, Matthew Lugg, has all but dismissed this tactic for England.)
Interestingly, Mr Mackay tells Transport Network that not so long ago he might have agreed that the voluntary route had run its course; however he suggests it has taken on 'extra momentum' from the city deals.
Now including Glasgow, Aberdeen, Inverness and Highland City, Stirling and Clackmannanshire, Edinburgh and South East Scotland and the Tay Cities regional deals, with a commitment to 100% coverage of the country, the deals have boosted partnership working.
'What's emerging in Glasgow is a more strategic approach to transport planning at a regional level with the regional transport partnership and Transport Scotland,' he says.
When it comes to the Scottish trunk roads there had been much talk of the next generation of contracts – currently going through the procurement process – including more aspects of collaboration between local and trunk road operators. This does not appear to have transpired, which Mr Mackay accepts, although he suggests this is not the fault of Transport Scotland.
'I would say councils are increasingly lean and have no spare capacity in roads and very much focus on basic asset,' he says.
As for councils being given extra support under the new contracts, he adds: 'I suspect extra support would be difficult commercially to arrange. Transport Scotland will be keen to get the best price based on their requirements without significant spare capacity.'
When it comes to winter service, collaboration is part of the culture, both between authorities and trunk operators, Mr Mackay says. This allows councils to operate lean, on the understanding that it is rare all 32 authorities will suffer from extreme weather at once.
The in-house delivery model also boosts flexibility, Mr Mackay claims, with multifunctional vehicles and roles. He adds that councils 'increasingly utilise contracts that draw capacity from farms, quarries and other places to supplement a basic resource'.
Looking more widely, he says there has been further progress 'towards route-based forecasting and a move to pre-wet salt' in Scotland. His own authority of South Lanarkshire, where he is head of roads and transportation services, has route-based forecasting on 23 individual routes and is 'considering further re-routing on a thermal domain basis'.
Mr Mackay welcomes the potential of low-cost sensors to boost winter service, although he points out such coverage raises issues around mobilisation. Looking ahead, Mr Mackay describes Scotland's approach to electric vehicle charging as 'sporadic'.
He calls for a standardised approach to a national charging network and strong leadership from central government to push it through in order to achieve the ambition of phasing out petrol and diesel by 2032.
After all that excitement, we wishe Mr Mackay well as he settles back to his day job – oh, and the fishing and sailing.
Cold Comfort Scotland - the devolved nation's only annual winter maintenance conference and exhibition takes place at the Macdonald Inchyra Hotel, Falkirk Thursday 25th April 2019.
Cold Comfort - the 28th annual winter maintenance conference and exhibition in England takes place at the Harrogate Convention Centre, Harrogate, on 15th - 16th May 2019.